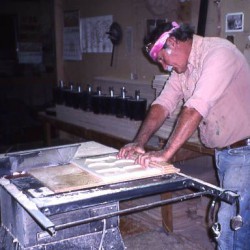 It's hard to believe we've been making and selling puzzles for almost 35 years!  There are so many aspects of the business that we love: working with wood–it's such a wonderful and forgiving medium, meeting customers and other craftsmen at the many Art & Wine Fairs we've participated over the years, hearing feedback from pleased customers and providing a well-crafted educational toy at a reasonable price are only a few of pleasures we've experienced.
This year, I turned 77.  I am still blessed with good health even though there are a few hitches in my giddyup….but we thought perhaps it was time to think about the next phase of our lives.  I am not ready to give up puzzle-making, and Suzanne is still happy teaching 8th grade…
The Next Generation
We didn't have to search long for a solution.  Fate has it that our nephew has had his eye on our business for a while now!  Brian spent lots of time on the farm during his childhood and grew up on our puzzles.  He's worked in the shop with me and also helped with farm chores.  He has always loved to work with his hands and is familiar with the wonderful lifestyle the business has provided for us–being able to work at home and creating our own schedules, being involved in a creative reality–and both he and his fiancé were drawn to the idea of it.
He approached us recently and told us that he would love to learn to make puzzles and someday–when we were good and ready–to take the business over and keep it growing.  His soon-to-be wife, Kate, is a web designer and tattoo apprentice and between the two of them they have lots of ideas on how to grow the business–including making tattoo art puzzles!
So, over the next couple of years, Brian and Kate will be working with us to learn the craft of puzzle making.  Kate designed our new website that now makes it easier to order puzzles online, plus its mobile friendly and easy to use for our customers.  You'll be seeing them with me at craft fairs and we'll introduce them to you on our Facebook page.  We are thrilled that business will continue on, and we know that our new partners will bring new energy and ideas to keep The Puzzle Man growing.
– Ed and Suzanne
The Puzzle Man & his wife